Plan management and payment
In the CO3, you can freely switch your plans at any time, so as your business grows, you can switch to ever higher packages to meet your needs. Of course, it is possible to choose a smaller plan, but it is only possible if you have not exceeded the limits of this smaller plan.
After registration, CO3 can be used free of charge for the first 30 days. After that, the fee of the set tariff of plan is payable.
The plan can be prepaid up to several months in advance.
If you do not pay your plan for the next period, you will be automatically and irrevocably deleted from the system on the 30th day after the payment has expired. Automatic account alerts are sent in advance about your account expiration and the date of cancellation.
Payment of a plan
The Super Admin user of the account will receive an email notification 5 days prior to the payment deadline. After that, another reminder will be sent 2 days later and another one on the expiration date of the plan. If the payment is not made on time, the Super Admin of the account will receive a further email notification on the day after the payment deadline, informing about the expired plan. The account will be permanently deleted on the 30th day after access is restricted, along with any previously registered, uploaded data.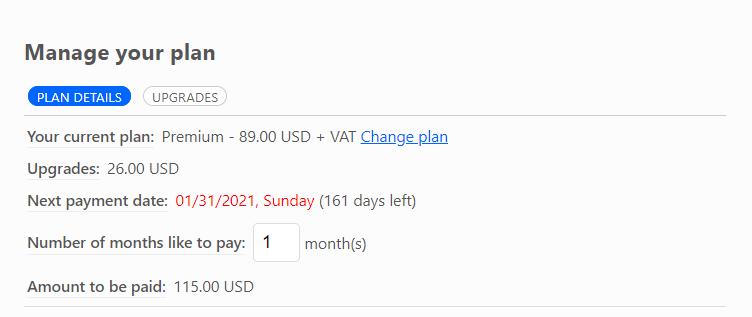 The plan can be paid by bank transfer or with credit card.
The advantage of credit card payment is that you can pay at any time (on weekends or even at night) and your account will be activated immediately after successful payment.
If you want to pay by bank transfer, the system will create a proforma invoice. Based on this invoice you can transfer the price of your plan. On the proforma invoice we provide you an accurate information about the payment method. The transfer notice must include the name of your user account.
For both credit card and bank transfer payment methods, we will issue you an invoice after the amount has been credited to our bank account. This invoice will be sent electronically to the email (that you provided at registration) of the account owner.
Managing extensions and upgrades
If you've "outgrown" the limits of your chosen plan but don't want to upgrade to an even higher plan, you have the option to buy extensions. Extensions allow you to increase your storage space or even the number of stored partners. Add-ons can be used to increase the functionality of the system.
The limit increases by the number of extension units you purchase. When you pay for extensions by credit card, the extension is activated immediately, and the limits increased. With bank transfer, you'll need to pay a higher amount on the next payment due date of your plan. After the successful payment, the extension will be activated.