Queries
Invoices can be queried by various filtering criteria: current month, last month, or even a list of preferred time intervals, by status, project, partner, payment method, currency, or sales colleague. If you use cost centers and/or profit centers, you can also filter them separately.
After inquiring, the summary column will show the summary of the inquired invoices. The cash flow will always be shown in the account's default currency. Foreign currency invoices are automatically converted based on the exchange rate data on them. If you especially want to see the summary in different currencies, just pick the right currency form the currency picking dropdown list.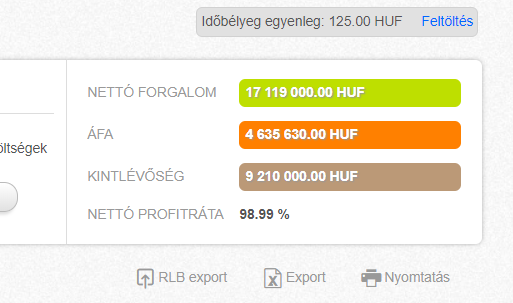 The results of the inquiring can be exported into an XLS or RLB file, or can be printed out. With the help of the RLB format, you can create general ledger postings for the RLB accounting software which is popular in Hungary.
Bulk status update option on Incomings
When filtering on incoming invoices only, the "Bulk status update" link will automatically appear before the "RLB export" link. Clicking on it, there will be appearing a check box before every incoming invoice and a drop-down menu at the top of the list from which you can select the desired status. When you select paid status, an additional field appears where you can set the payment date. After selecting the desired invoices, pressing the "Apply" button will change the status of the accounts to the one selected in the drop-down menu.